Sale price
24,95 €
Regular price
Unit price
0,10€
per
dose
Sale
Sold out
Jar of N-Acetyl-Cysteine ​​(NAC) powder with measuring cup to prepare nutrient-enriched drinks. N-Acetyl-Cysteine ​​is a dietary supplement that transforms into L-Cysteine ​​once in the human body. L-cysteine ​​is an amino acid involved in the synthesis of glutathione, but also human tissues, mainly hair, skin, and nails. Indeed, keratin, which is the main constituent of hair, is made up of proteins that contain up to 17% L-cysteine.
100% biofermented N-Acetyl-Cysteine ​​(NAC)

Soluble powder to dilute in your favorite drinks (water, juice, smoothie).

Pot equipped with a freshness lid guaranteeing tightness & inviolability

250mg doser included to facilitate your intake
All our food supplements are suitable for vegetarians and vegans.
Origine
végétale
Excellente
assimilation
Doseur
inclus
Façonné
en France
Share
View full details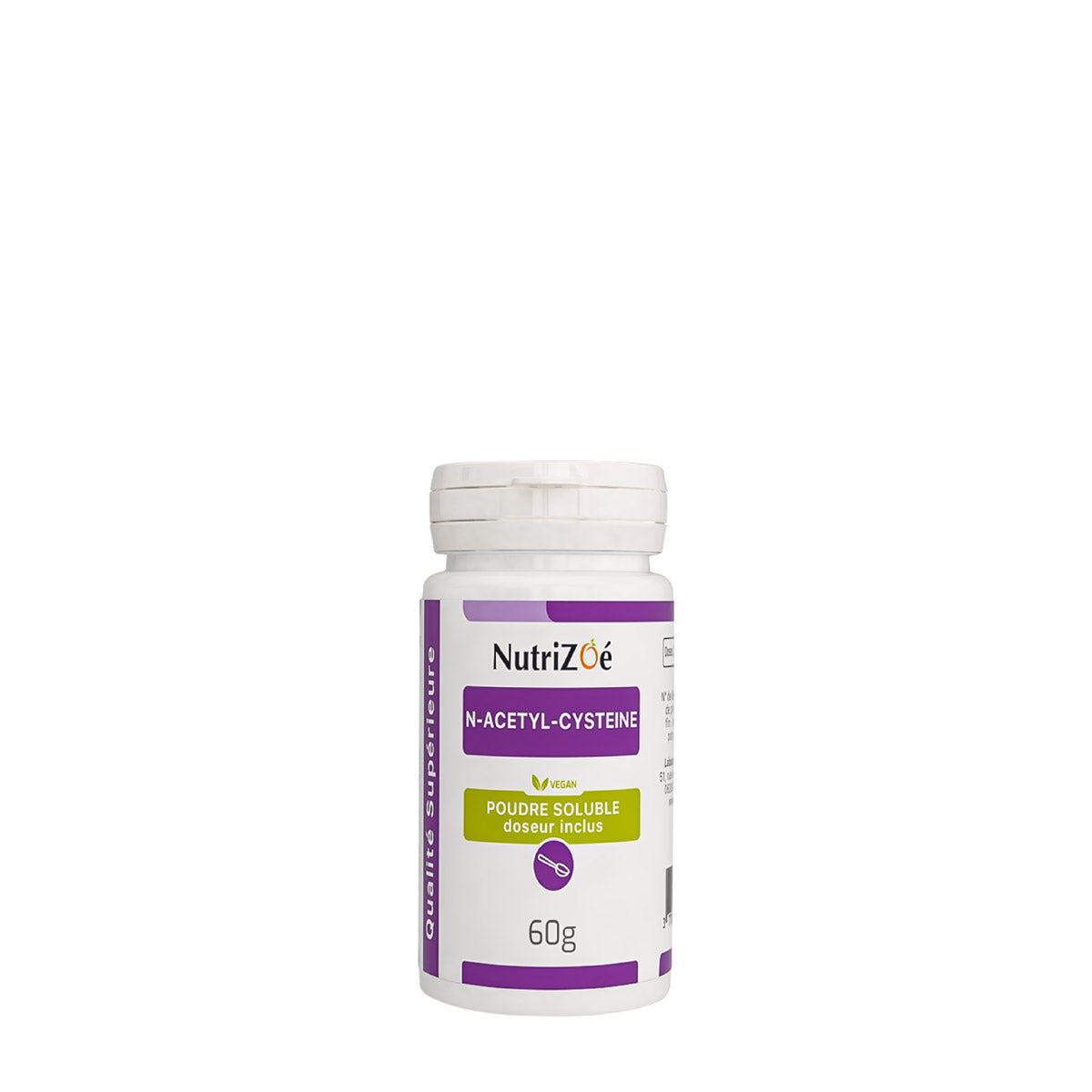 Informations nutritionnelles
DJR*
(4 pods)
N-acétyl cystéine
1000mg
*DJR: Dose Journalière Recommandée
Avis à propos du produit
Voir l'attestation
Tout va très bien ! Concernant le produit, qd je l'aurai essayé pdt un certain temps je pourrais vous lire dire.

Très bien, demande encore un peu de temps pour tester sérieusement.

Le produit correspond bien à ma demande.

J'attends de le tester sur une longue période, mais ce produit me semble être un bon produit naturel.

Très bon produit , délai de réception très bien , note 5/5.

Trés bon produit que j'arrive à prendre facilement son acidité.

La granulométries du produit n'est pas assez fine je trouve, du coup l'assimilation se fera moins bien je pense. A part ça, tout est parfait! Merci.. .

Réponse du marchant

Bonjour, Tout à fait, la texture et la granulométrie de la N-Acétyl-Cystéine s'apparentent à celles du sel de table. Se dissout rapidement dans de l'eau tiède ;) Encore meilleure quand vous la mélanger avec la glycine qui est le principal précurseur du glutathion. Bien à vous, Guillaume Service clientèle

J'en avais commandé en 60 g, j'en ai recommandé en ,250 g. Je me sens beaucoup plus dynamique depuis que j'en prends. Le goût est un peu particulier, mais tout à fait acceptable. J'en prends d'ailleurs à jeun sans problème .

Pas assez de recul pour évaluer le produit.

J'ai pris pour d'autres personnes en cas de besoin. Avis très favorable. Je recommande.

Même note pour la vitamine C.
Free delivery*
Free delivery in Relay Point from 45 euros
Secure payment
Secure payment with Payplug and Paypal