Sale price
39,90 €
Regular price
Unit price
0,13€
per
dose
Sale
Sold out
Jar of L-Lysine powder with doser to prepare nutrient-enriched drinks. L-lysine is an essential amino acid that the body does not synthesize, and that we must find in our diet. This amino acid is a component of collagen proteins in our body. It is involved in the development of muscle mass.
Plant-based L-Lysine

Soluble powder to dilute in your favorite drinks (water, juice, smoothie).

Jar equipped with a freshness lid guaranteeing tightness & inviolability

Included 1g dispenser to facilitate your catches
All our food supplements are suitable for vegetarians and vegans.
New generation premium vegetable capsule of natural origin (pullulan).
Origine
végétale
Excellente
assimilation
Doseur
inclus
Façonné
en France
Share
View full details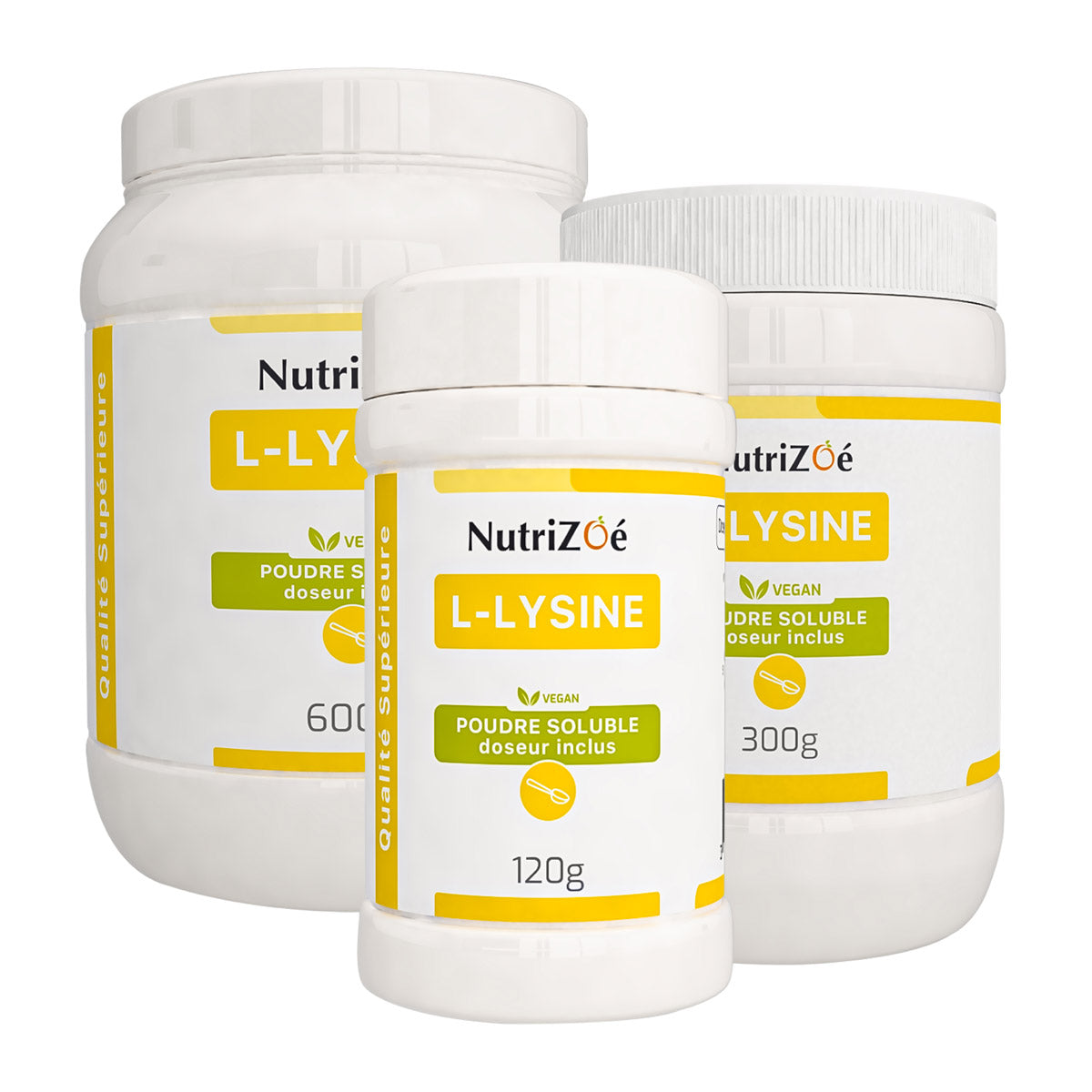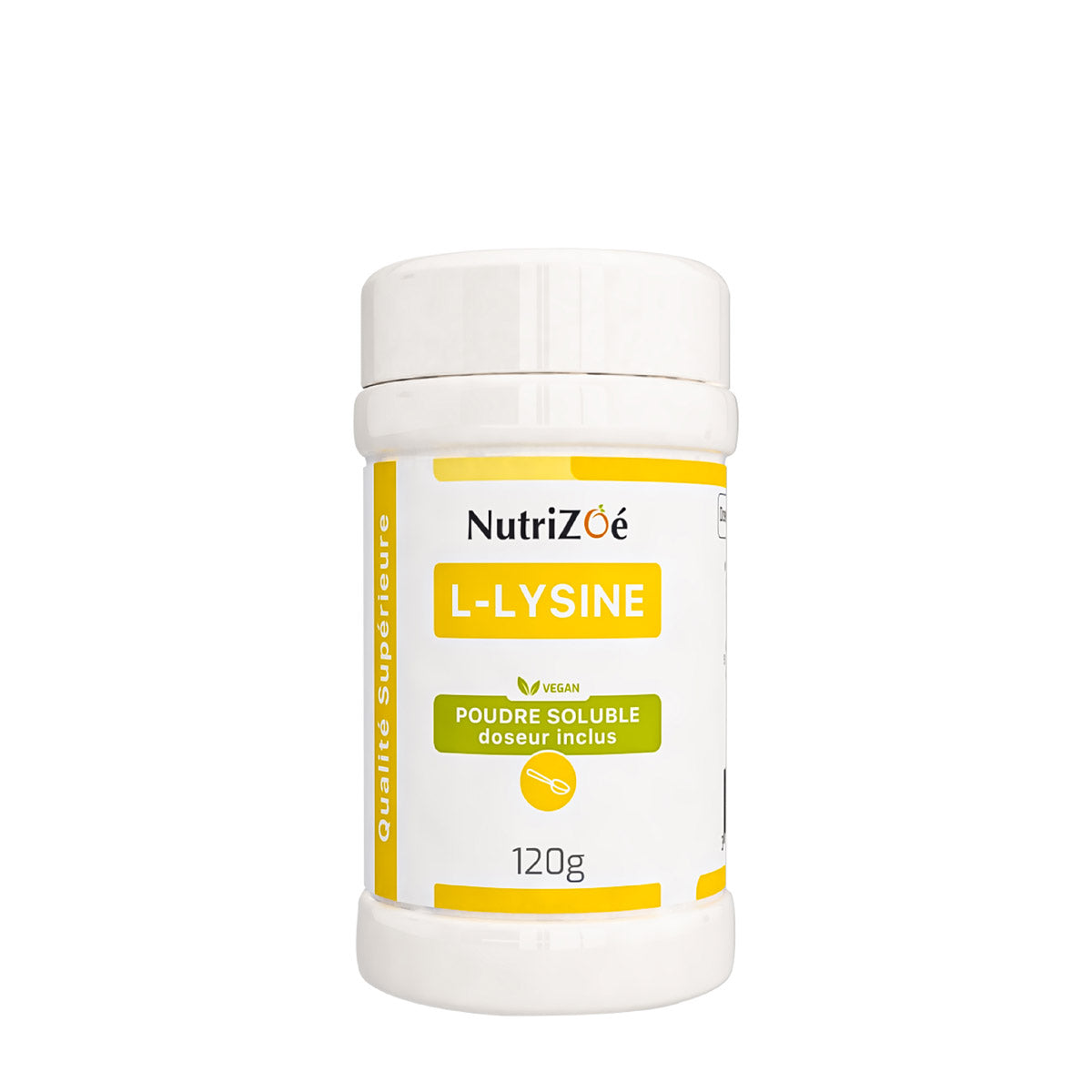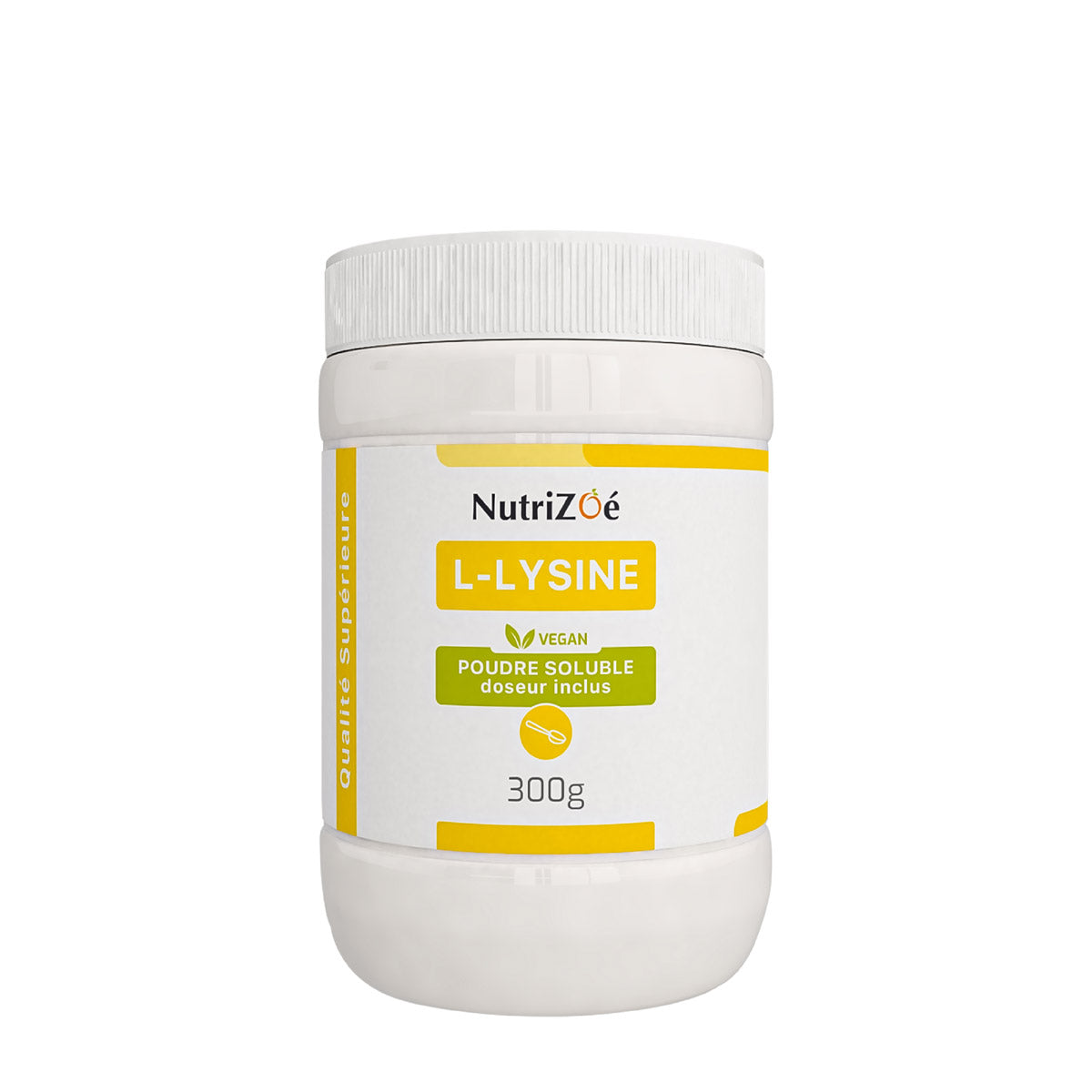 Informations nutritionnelles
DJR*
(2 pods)
L-lysine
2000mg
*DJR: Dose Journalière Recommandée
Avis à propos du produit
Voir l'attestation
Acide aminé très important, cette formule en poudre me satisfait.

Rien a dire ,tres bon produit continuer comme ça..

Excellent produit Excellents résultats.

Produit attendu, excellente qualité, je recommande.

Excellent complément alimentaire et commande reçue en un temps record. Suivi s'envoie jusqu'à réception avec professionnalisme. Site a recommander.

En cours de test. A voir dans le temps.

Je prend la L-Lysine depuis quelques temps, la peau est un peu plus ferme.

Excellente qualité sans oublier la vitamine C indispensable en cette période pour renforcer notre système immunitaire.

Je suis satisfaite de la poudre L-Lysine . Il manque juste la petite mesure en plastique dans chaque boîte . Je me suis débrouillée avec une cuillère en métal sans mélanger car ce n'est pas idéale . Merci Joëlle.

Très bon produit ; je l'avais déjà utilisé et continue d'en prendre.

Conforme à ma commande et dans les délais prévus.

Excellent produit je recommande;

J'associe la lysine à la vitamine C afin de potentialiser l'action de ces deux produits aux principes actifs différents. Cette association présente l'avantage de réaliser une véritable synergie d'action.

Lysine pour fixer la vitamine C qui est tres important pour moi.

Très bon comportement satisfait.

Je consomme environ 1,5 gr/jour ensemble avec la vit C.

Super produit très bonne synergie avec la vit c et la glycine !

Bon service et le produit me convient parfaitement. Je renouvellerai ma commande.

Tout à fait conforme à ce que j'attendais. .

Une découverte pour moi et j'en suis très satisfait. déjà des résultats visible sur ma peau en très peu de temps. Merci pour cette découverte.
Free delivery*
Free delivery in Relay Point from 45 euros
Secure payment
Secure payment with Payplug and Paypal