Sale price
26,95 €
Regular price
Unit price
0,27€
per
dose
Sale
Sold out
Glycine powder jar with measuring cup to prepare nutrient-enriched drinks. Glycine is the major amino acid of collagens in the human body. It represents a third of its components. From the age of 25, the synthesis of glycine in our body decreases. Glycine is also involved in liver metabolism, in particular the synthesis of bile acids which are essential for the elimination of fats. Glycine is also a precursor of glutathione, in synergy with NAC (N-Acetyl-Cysteine).
100% Glycine

Soluble powder to dilute in your favorite drinks (water, juice, smoothie).

Jar equipped with a freshness lid guaranteeing tightness & inviolability

Included 1g dispenser to facilitate your catches
All our food supplements are suitable for vegetarians and vegans.
100%
végan
Excellente
assimilation
Doseur
inclus
Façonné
en France
Share
View full details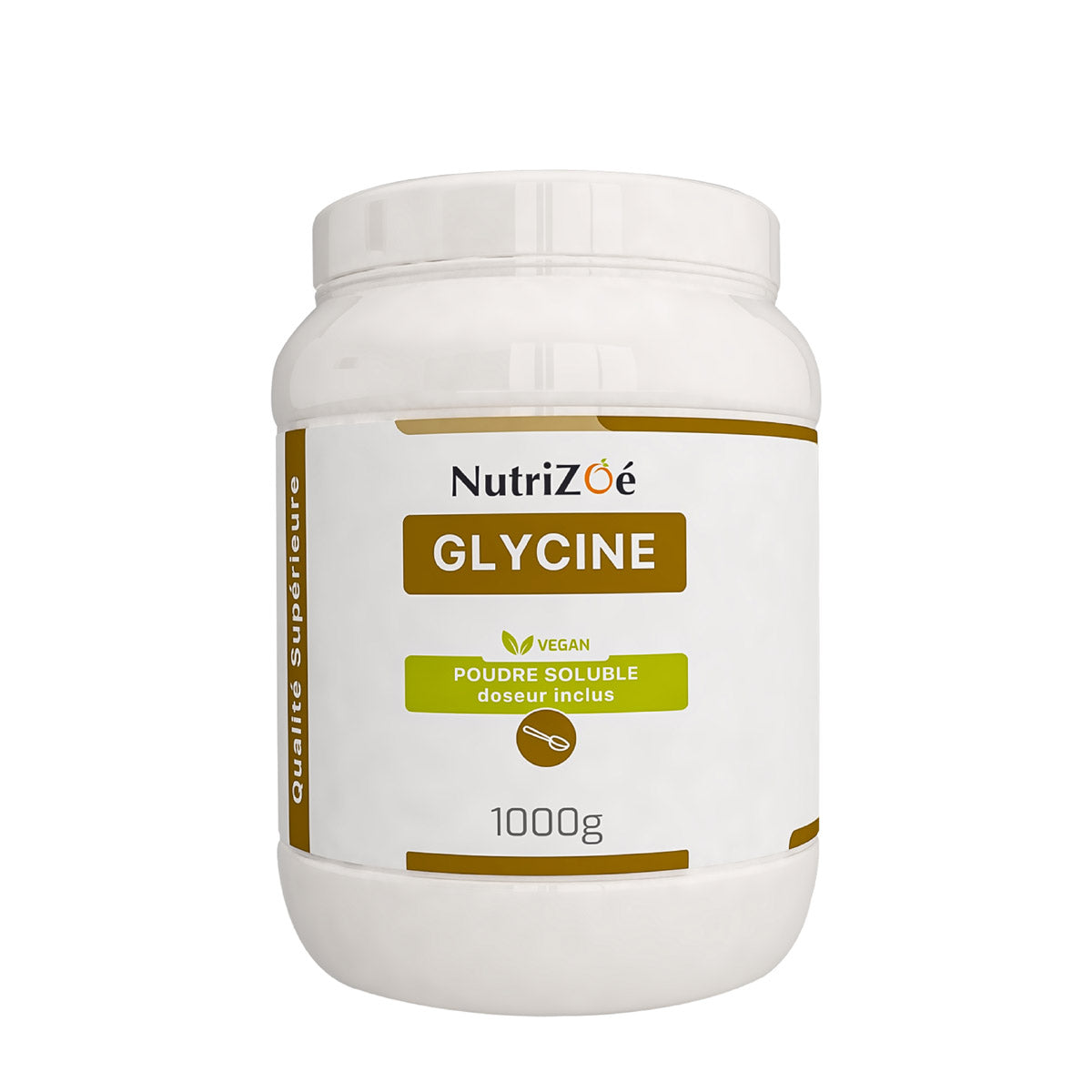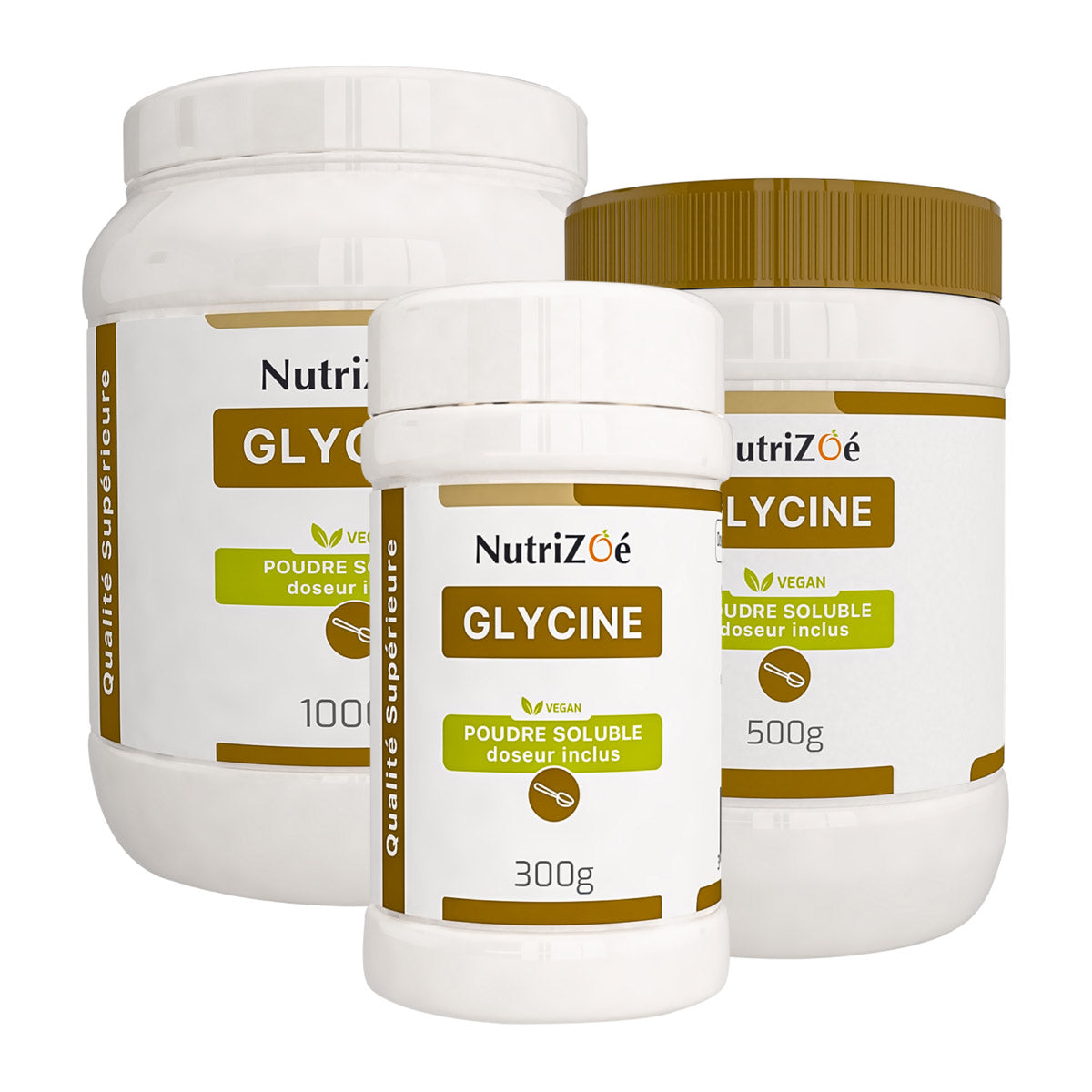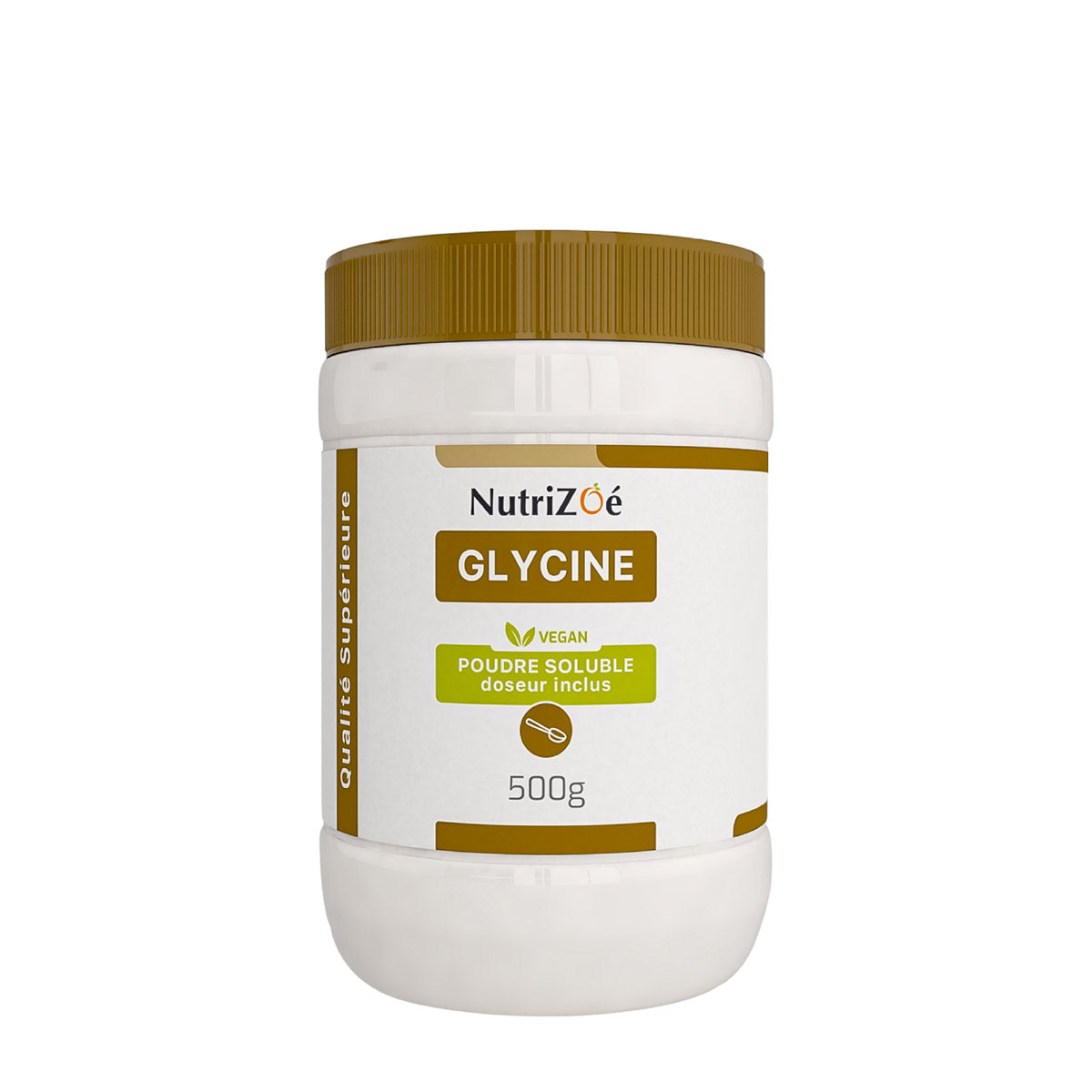 Informations nutritionnelles
DJR*
(10 pods)
Glycine
10g
*DJR: Dose Journalière Recommandée
Avis à propos du produit
Voir l'attestation
Laboratoire sérieux produit Agréable en bouche juste commencé voir dans le temps.

Je prends de la glycine depuis quelques temps déjà . Mais je n'ai pas encore essayé ce produit.

Très bon produit, je le prends depuis plusieurs années car il est très efficace.

Je prends de la glycine depuis 2ans environ et les résultats sont incroyables. Je n'est plus ou peu de douleurs articulaires et musculaires, ce qui m'empoisonner la vie. Pas d'effet secondaire, je recommande vivement.

Conforme à mes attentes. Service client au top.

A ce stade pas assez de recul mais devrait être bon pour ma peau, mes tendons, mes muscles et mon sommeil...

Excellent produit - Bon goût.

Très satisfait des produits et du service de " mavitamineC".

Je prends la glycine depuis environ 4 mois et j'ai constaté avoir un meilleur sommeil, l'aspect de la peau s'est amélioré. Je suis plus détendue.

Même commentaire que la vitamine C produits que je prends ensemble.

Produit très apprécié pour l'ostéoporose, en tre autre...

Je dors beaucoup mieux depuis que je consomme la glycine en association avec la vitamine C. Merci pour vos conseils ;).

C'est la 2ème fois que je commande de la Glycine, il faut prendre directement le pot de 1 kg car à deux le pot est vite terminé. Je fais des cures 2 X par an en mélangeant avec de la VIT C que l'on prend en continue. Produit de qualité, expédition rapide et bien emballé, je suis satisfaite.

Produit de qualité que j'utilise en cure, la prochaine fois je prendrai un pot de 1 kg.

Produits de goût neutre , excellente composition.

Complète ma prise de collagène.

Excellent produit comme d habitude.

Produit et livraison top!

La glycine est de bonne qualité mais je n'ai pas, pour le moment, les effets escomptés, mais sans doute dois je encore patienter.

Super produit recommandé par l'association kousmine bel aspect bel emballage je mélange avec la vitamine C et la lysine (bon gout) effets positifs ressentis très rapidement meilleur teint, peau nette du visage en peu de temps ! j'avais aussi des problèmes de peau et d'ongles au niveau des petits orteils. Résultats spectaculaires en moins de 30 jours nouveaux ongles et nouvelle peau !!! comme avant :))).
Free delivery*
Free delivery in Relay Point from 45 euros
Secure payment
Secure payment with Payplug and Paypal